Spotlight
Dr. Paul Wehman, Director of VCU's Rehabilitation Research and Training Center, speaks about the employment of people with physical and intellectual disabilities.
Latest news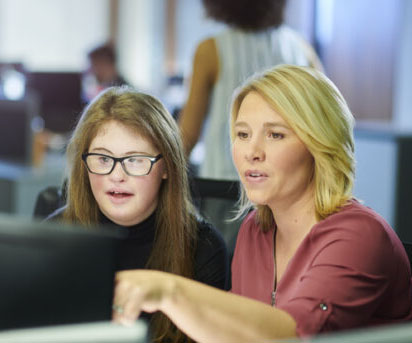 Posted Jan 20, 2022 - DHHS recently agreed to end segregated work over the next 5 years. Learn more about new employment services as the state transitions people to community jobs.
Featured
---
Richmond Times-Dispatch (By Madyson Fitzgerald) - In the main lab on the first floor of Bon Secours St. Francis Medical Centerin Chesterfield County, machines beeped and whirred with activity as hospital staff worked late Tuesday morning. It was a busy scene. One staffer was preparing specimens to be transferred to Bon Secours St. Mary's Hospital in Henrico County. Wearing a blue medical gown and mask with hair pulled into a ponytail was Xander Ferguson, 18, who was putting the tracking information on the vials. In the lab, he can usually be found filing slides, making COVID-19 kits, and scanning lab specimens.