Spotlight
Dr. Paul Wehman, Director of VCU's Rehabilitation Research and Training Center, speaks about the employment of people with physical and intellectual disabilities.
Latest news
Every time Trey Smith sits down in his cubicle at work, five words greet him. "I CAN AND I WILL." A nod to the determination that has guided the 20-year old since he was little. That has been his mantra throughout life. His parents John and Altrice Smith said the words best describe their son.
Kyle J. and Trey S. began working for Dominion Energy in the fall of last year as process assistants in Human Resources. Both Kyle and Trey both have high functioning autism and were excited to land jobs with the company. Less than a year later, while Autism Awareness Month is in full-swing, they shared their experiences with Lisa Carnahan, a senior communications specialist in Human Resources.
Business Connections at VCU is a supported employment service provider for individuals in the Metro Richmond, Fredericksburg, and Warsaw areas, assisting individuals with disabilities with finding employment and providing ongoing support to clients who obtain employment. Established in 1983, the Virginia Commonwealth University RRTC provides resources for professionals, individuals with disabilities, and their representatives. Our team of nationally and internationally renowned researchers is committed to developing and advancing evidence-based practices to increase the hiring and retention for individuals with disabilities.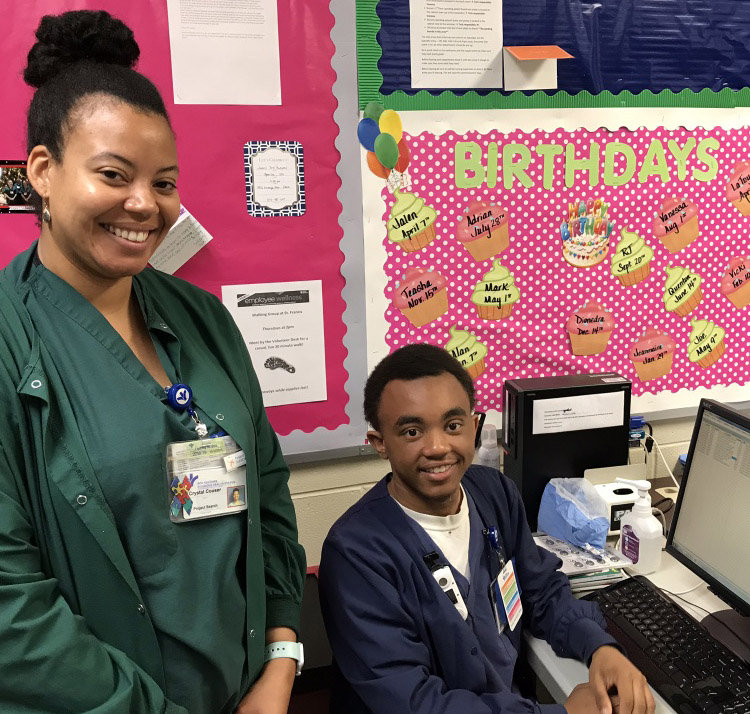 Featured
---
Crystal Hence has all the skills a good job coach should have. She is the sole job coach for Project SEARCH at St. Francis Medical Center, where she works with an average of six students at a time. She is persistent in her job leads and not shy about approaching employers.